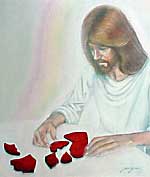 Testimony
Many years ago, after the heartbreaking loss of 3 babies and after the birth of my second-to-live son, I had an unusual experience. The setting was a San Francisco bookstore and it was the day after Thanksgiving. My husband and I had gone there to purchase a certain book.

Upon entering, we noticed a sign inviting everyone to attend a meeting at 12 noon where a doctor was going to speak on the love of Jesus Christ. We took a seat in the lecture area and the doctor started to speak. She told us we were to imagine that we had a cup in our hands which was filled with a liquid resembling cold milk. The milk was to represent the love of Jesus Christ. We were to drink from the cup.

But, before we did that, she wanted us to sit quietly with our eyes closed and our hands in the position of holding a cup while she talked to us. She spoke of several in the audience and I was amazed that she would have such knowledge about other persons. I had attended church all of my youth, yet I had never been taught about the infilling of the Holy Spirit. So this knowledge she displayed surprised and frightened me.

It frightened me most when she said, "We have one with us today who is an artist." I tried to pretend that she was talking about someone else. But, there was a knowing within me that I was the artist she was talking about. She continued, "She has not yet realized her full potential, but if she will drink from Christ's cup of love, there will be no end to the things she will accomplish."

She then said, "Now you have a cup in your hands." And, with that, I saw hands place a silver embossed cup in my hands. It had that cold weepy feeling that silver has when it is filled with a cold liquid. Without a moment's hesitation, I felt my spirit arms lift the cup to my lips and I swallowed the wonderful, delicious liquid.
Walking with Jesus
The next thing that happened was an experience which was completely foreign to me. I was transported, in spirit, to a mountain top and found myself walking in a pine encircled meadow, the breeze was blowing my hair and someone was holding my hand. When I looked up to see who it was, I looked into the most beautiful, kindest face I'd ever seen. His eyes were filled with an overpowering love for me. I did not know such a love existed, much less that I could be the recipient of it. I knew who my friend was. I recognized his face. It was Jesus!

We walked in the meadow for a considerable time. He didn't speak any words to me; he simply and powerfully loved me. His love not only healed my broken heart and erased my fear, but it changed my life. Just knowing how much I was loved gave me the courage to overcome all obstacles. I wanted to run out into the street and grab people by the shoulders and say, "Let me tell you about a man I know. Let me tell you about his love for you."

If I could talk with you face to face, I would tell you about this man, Jesus, and about the wonderful things He has done for me. I would tell you how He appointed me to be an artist.
"God in heaven appoints each man his work." John 3:27
.
And, how He has a plan for your life too; a plan that will give meaning and purpose and direction in all that you do. But since my sharing is being done over the Internet I would like to show you how Jesus has blessed my life through art. For truly, through Him, I have accomplished more than I ever dreamed.

After you look at the pictures, you can see another testimony about how He called me to paint the book of Revelation, a project that took me 19 years.

If you have not yet drank from His cup of love and walked with Him, please let me encourage you to do so, because once you know Him there will be no end to the things you will accomplish, too. To learn how to know Him, please continue on my web page until you come to the Prayer of Salvation.
Prayer of Salvation
("To Know Him")