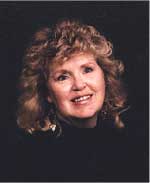 Jan's Biography

God has given Jan Small a unique gift of expression through her paintings.
Her work has been exhibited nationally and she has received numerous awards.
Purchases have been made for many public and private collections.

Since 1963, she has taught art in local schools through the Mentally Gifted Minors
program, in schools for the mentally and physically handicapped, to groups of senior
citizens through the Alameda County Social Services Bureau, to abandoned and
abused children at Alameda County Juvenile Hall, to special workshops through
various organizations and to the students in her private art school. Jan also conducts
Prophetic Art Workshops at her studio. Those interested in taking art classes and
Prophetic Art Workshops may contact Jan at: jan@jansmall.com
Jan's latest book (2009), The Making of An Artist - The First 70 Years, is an
autobiography about how God made this artist. It is 160 pages. There are 266
illustrations: 204 in full color and 62 black and white Stories about the paintings
are included.

She has appeared on several T.V. programs with her paintings, and has spoken
to many Women Aglow fellowships, churches, schools and different organizations.

Jan's book, Healing by His Design, published in 1987, is about designing your feelings
and giving them to God to heal. It is a workbook of fourteen (14) lessons.

In July of 1997 she completed a 19-year project of painting the book of Revelation.
She also produced a video presentation of this series of over 200 paintings. In 2002
she finished putting together the book, Revelation Illustrated. It has 214 illustrations
with scripture and stories about the paintings.
For more information see Video or Books.

Jan is married and has two grown sons, who are both married. She also has 3 grandsons
and 1 granddaughter.